Should You Hire a Wedding DJ or Create Your Own Playlist?
Planning a wedding in Charlotte can be stressful and overwhelming. Choosing the music for your wedding reception shouldn't be just another chore that you have to check off a list. Your wedding reception music will create a vibe, contribute to the overall atmosphere and ambience, and encourage your guests to relax and have fun. It may be tempting to just create a playlist on your smartphone to use on the big day, but hiring a wedding DJ in Charlotte, NC will guarantee that your wedding reception is fun, memorable, and stress-free.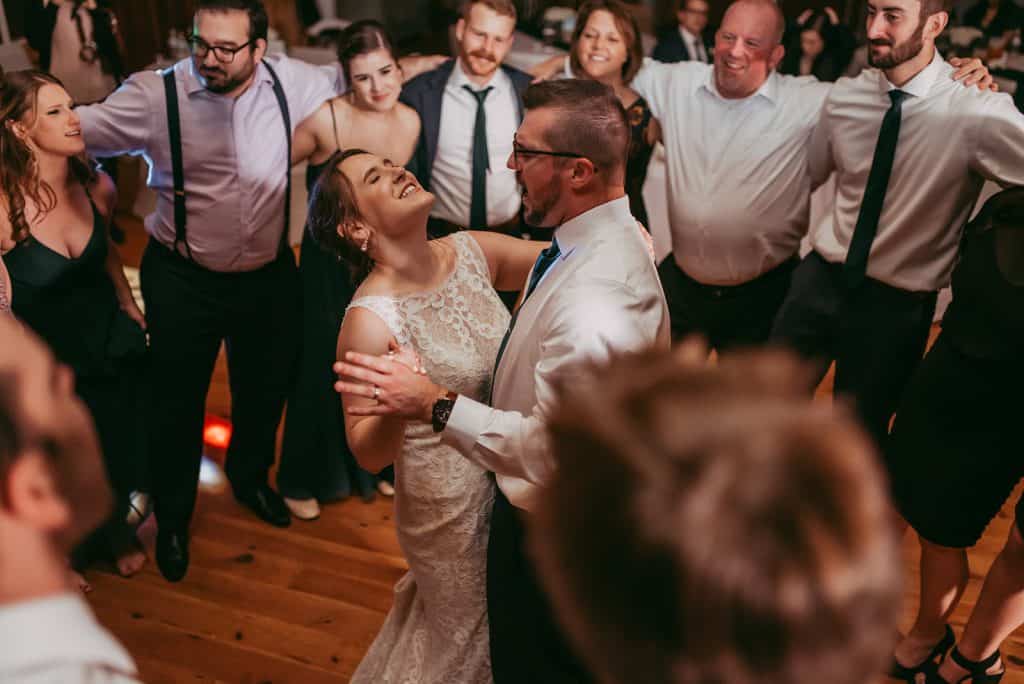 What Does a Wedding DJ Do?
A wedding DJ or wedding reception DJ has a big, important job to do: create a memorable and fun party atmosphere. Your wedding DJ will be able to read the vibe in the room and adapt their playlist to the mood, bringing it up as needed and taking it down a notch when appropriate. A good wedding reception DJ will play the perfect music at the perfect time and will keep the party going by inspiring guests to get out on the dance floor. They will also engage with the guests, take requests, and provide lighting effects that contribute to the ambience.
Can't I Just Make My Own Playlist?
If you're considering making your own playlist for your wedding reception, or a friend or family member has offered to make one for you, it may seem like a cost-effective, low-stress way to go. But what would happen if something went wrong with the playlist or sound system once you plug in your smartphone? What would you do if the WiFi at the venue is spotty, and the music keeps cutting in and out? And what type of speakers are you going to use to make music from your smartphone sound party-ready? If you don't want the added stress of troubleshooting issues like these during the most memorable moments of your wedding, you should consider hiring a wedding reception DJ instead.
Finding Your Wedding DJ
Ask friends and family for recommendations. This is the best way to find a great local DJ that you can trust. It's always a good idea to work with a supplier that someone else can vouch for based on their own experience.
You Can Still Customize Your Wedding Playlist
Using a wedding reception DJ service doesn't mean that you won't get to hear music you like. Most local wedding DJs will let you customize your wedding playlist so that it includes songs that are memorable and important to you and your partner. A professional wedding DJ will also be open to taking special requests from the guests.
A Wedding DJ Works Within Your Timeline
In addition to playing music, a wedding DJ also controls the mood and lighting, and works within your timeline. They can make announcements, such as the first dance, bridal party names, and last calls. They can also be a valuable tool for the other wedding vendors you're using, as they can work together to coordinate the timing of serving food, dessert, and other events throughout the party. Your wedding DJ can also adjust the timing of the event if you're running behind in the schedule.
Wedding Reception DJs are the Perfect Hosts
You don't necessarily want to be playing host at your own wedding reception. It might be the first chance you get to relax with your new partner, drink some champagne, and mingle with friends and family. If you use a wedding playlist on your smartphone, you may need to pause, stop, and start the playlist at different times throughout the event (or worry about reminding someone else to do so). You also may need to troubleshoot problems with the playlist or sound system. A wedding DJ will do all that for you. They will make important announcements that keep the event running smoothly, adjust the mood of the party as needed, and troubleshoot their own equipment and sound system. They will also keep the guests' spirits high all throughout the event.
Professional Equipment, Lighting, and Sound
If you create your own wedding playlist, you'll need access to the right equipment and sound system to ensure the music isn't just playing from your smartphone speakers. You'll also need dance floor lighting. Renting that equipment is costly, and you'll have to set it up, break it down, operate it, and troubleshoot it yourself. A local wedding reception DJ will already have professional equipment, and they will know how to use it. They will also have a backup plan in place in case something goes wrong at the reception at the last minute.
Be wary of DJs that advertise themselves as DJs but don't have any websites that will prove or showcase their experience. Some people claim to be DJs on social media. Still, if you look closer, they may just be aspiring DJs and don't own the professional equipment needed for a big event. They also don't have the experience required to make your wedding successful.
What to Look for in a Charlotte Wedding DJ
When looking for a Charlotte wedding DJ, ask friends and family for recommendations. Check out the DJ's social media profiles to see videos of past events they have done. Read online customer reviews and testimonials and look for red flags like customers who say they were late, rude, played terrible music, or didn't have the right equipment. Meet the DJ face-to-face before the event and ask them any questions you have. Find out if they will take requests during the reception, and if you have any say in what songs they play and when. Make sure that their fee is all-inclusive, and they won't keep adding on fees here and there for different things.
Ready to Book a Wedding Reception DJ in Charlotte, NC? Call Us Today!
Are you looking for a professional, reliable, and fun wedding reception DJ in Charlotte, NC? Call us today at Sound Explosion Mobile DJ. We provide all-inclusive, fully customizable wedding DJ services and wedding reception DJ services in Charlotte and surrounding counties.
All of our equipment is concert-quality, and we're happy to take special requests and adapt our services to meet your needs. We'll help your wedding reception run smoothly, and we'll make sure that you and your guests have a unique, memorable experience! To learn more or request a quote for your event, call us today at (704) 957-6639 or 828-275-0342 or contact us online. Visit our website to see more!