25 Classic Wedding Walk-Out Songs
When you're planning your wedding, you don't want to forget the little details that go along with it – and that includes choosing the perfect wedding walk-out song. This is the song that's going to be playing when you and your new spouse make your grand exit from the wedding ceremony. Needless to say, it needs to be memorable. But with all of the different styles of wedding walk-out songs, what should you choose?
Let's check out a few classic wedding songs, as well as a few things that you and your significant other may want to consider when choosing the perfect walk-out wedding song.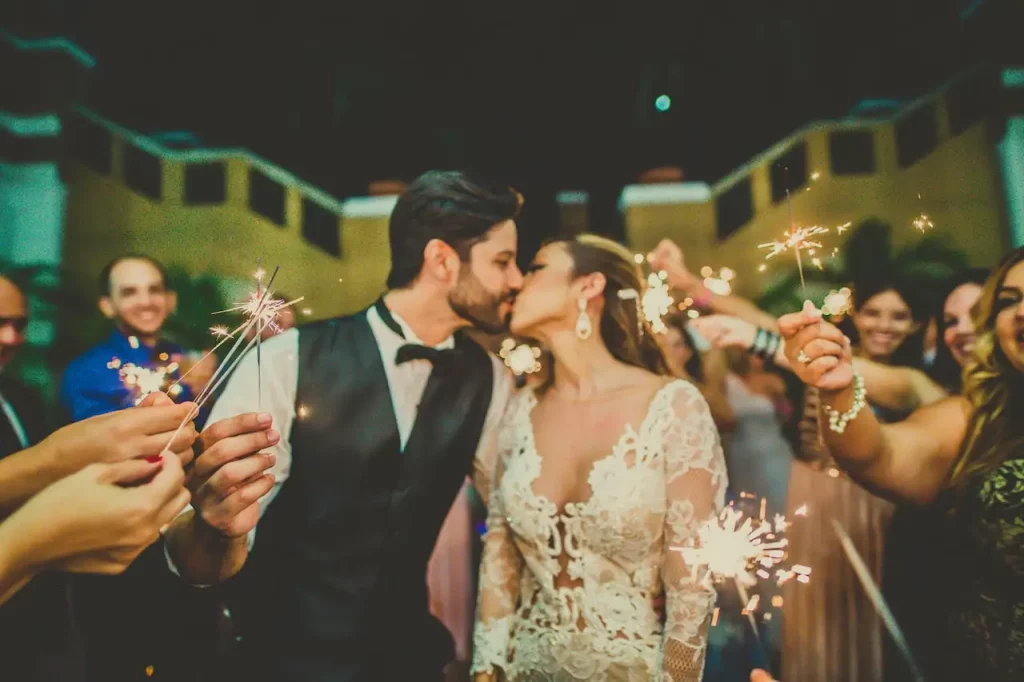 Why Do I Need a "Walk-Out" Song at My Wedding?
Before we even scratch the surface when it comes to wedding walk-out songs, you may be wondering why you even need one in the first place. Can't the wedding DJ just play whatever song is next in the cue? No!
Choosing the perfect song for each phase of the wedding is incredibly important, as it sets the tone for each moment! You wouldn't choose "She's My Cherry Pie" for your first slow dance wedding song – or, maybe you would, it's your wedding and we don't judge! But you'd likely choose something slower and more meaningful for your first slow dance as a new couple. That said, your walk-out song sets the tone for the end of your wedding ceremony and the start of your wedding reception!
Your walk-out song is the first time you're going to be introduced in public as a married couple, so you want it to be a memorable moment. Plus, this song usually helps to get the party started. It sets the tone for the end of the wedding ceremony into the wedding party or wedding reception! Whether romantic or rowdy, you and your new spouse should agree on a song that shows your unique style.
How to Choose Your Wedding Walk-Out Songs
As you sample literally thousands of potential wedding walk-out songs, there are certain things to keep in mind before making your final selection. Your song choice should sum up your relationship, fit the vibe of your wedding, be appropriate for your guests, and feel comfortable for you and your new spouse to walk – or dance – down the aisle to! Consider these factors before you make your final choice:
Classic or Popular?
Some people can't say no to a classic song, while others want the latest on the charts. Which category do you fall in? Knowing this can help to narrow down the playing field!
Walk or Dance In?
Whether you like it or not, all of the attention is going to be on you. Some people don't want to add more attention by doing a crazy dance. Talk to your partner and decide how you'd like to present yourselves. If you'd rather do a wild dance, choose an upbeat song to dance to! Or, you may prefer something classic and romantic. The point is to find a song that fits your style and makes everyone comfortable.
What Genre?
Rock, R&B, dance, country …there are so many different music genres to choose from when it comes to wedding walk-out songs. Which one do you like best as a couple? Zero in on the genre and then look for songs that fit the mold.
What Symbolizes You as a Couple?
Some songs truly capture your essence as a couple. If you and your partner already have a song, then that might be the perfect choice for your walk-out song. However, if you don't already have a song, you may need to look a little deeper.
Listen to the lyrics of different love songs and find something that truly speaks to both you and your experiences as a couple. Finding something meaningful to walk down the aisle to is incredibly important on your big day.
Popular Wedding Walk-Out Songs
Now that you know how to narrow down your selection, here are some popular wedding walk-out songs organized by category.
Classic Songs
"That's Amore" by Dean Martin
"Signed, Sealed, Delivered (I'm Yours)" by Stevie Wonder
"This Will Be (An Everlasting Love)" by Natalie Cole
"All you Need is Love" by The Beatles
"You're The First, The Last, My Everything" by Barry White
Pop Hit Songs
"Good as Hell" by Lizzo
"XO" by Beyonce
"24K Magic" by Bruno Mars
"Crazy in Love" by Beyonce featuring Jay Z.
"Feel This Moment" by Pitbull
Dance & Fun Songs
"Can't Stop the Feeling" by Justin Timberlake
"HandClap" by Fitz and The Tantrums
"Party Rock Anthem" by LMFAO
"Cake by the Ocean" by DNCE
"Happy" by Pharrell Williams
Rock Songs
"You Shook Me All Night Long" by AC/DC
"On Top of the World" by Imagine Dragons
"We Will Rock You" by Queen
"Start Me Up" by The Rolling Stones
"Jump" by Van Halen
Country Songs
"Fancy Like" by Walker Hayes
"Good Times Roll" by Jimmie Allen and Nelly
"Love Story" by Taylor Swift
"Somebody Like You" by Keith Urban
"One Thing Right" by Kane Brown and Marshmello
There's the perfect wedding song for every couple. The hard part may be trying to agree on one with your partner! But whatever you choose, it will certainly be one to remember.
Are You Looking for a Wedding DJ?
If you're looking for a wedding DJ in the Asheville, Concord, Gastonia, or Winston-Salem areas to provide the best music and even help you choose your wedding walk-out song, Sound Explosion Mobile DJ Experience is here for you. We offer professional DJ services to make your wedding perfect! Contact us today at (704) 957-6639 or reach out to us online for more information on how we can help start the party and pump up the volume!